This dress is of the style observed in the first quarter of the 14th century in northern Europe. It is constructed of unlined, fine, tabby-woven wool. In the photos below I am wearing the gown with a fine linen wimple and veil and a smocked linen apron. The dress is fitted through the shoulders only, and hangs in long elegant folds. It has a deep slit in the front neckline for nursing.
Photo by Ron Gebhardt, August, 2006
The dress was inspired by two pieces of clothing found at the Herjolfsnes archaeological site in Greenland. The two gowns, shown below in pattern drawings based on Nörlund, are both thought to have belonged to men, however, the construction of clothing in this time period were very similar for both genders. My gown has six gores, two under each arm and extending to the ground, one in the centre front set high in front at the start of the opening slit, and one in the centre back set at the waist. The dress was designed to be very loose as I made it when I was pregnant.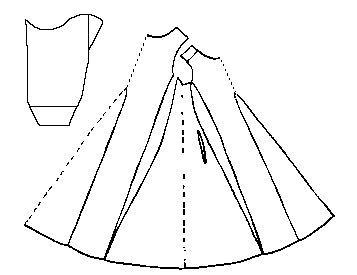 Herjolfsnes number 43 Herjolfsnes number 42

Some Clothing of the Middle Ages -- Kyrtles/Cotes/Tunics/Gowns -- Herjolfsnes 42 and Herjolfsnes 43, by I. Marc Carlson, Copyright 1997, 2003
The sleeves of the gown are semi-fitted and feature a triagular gore in the back of each sleeve head (see Herjolfsnes number 42, above). They are tapered through the wrist and forearm, but not so tight that they need buttons or lacing. This is an everyday, working garment.



The neckline of the dress is faced with a narrow strip of tabby woven silk, as is the deep front opening. The opening also has a tablet woven border in light blue wool, made with two tablets and eight strands of yarn.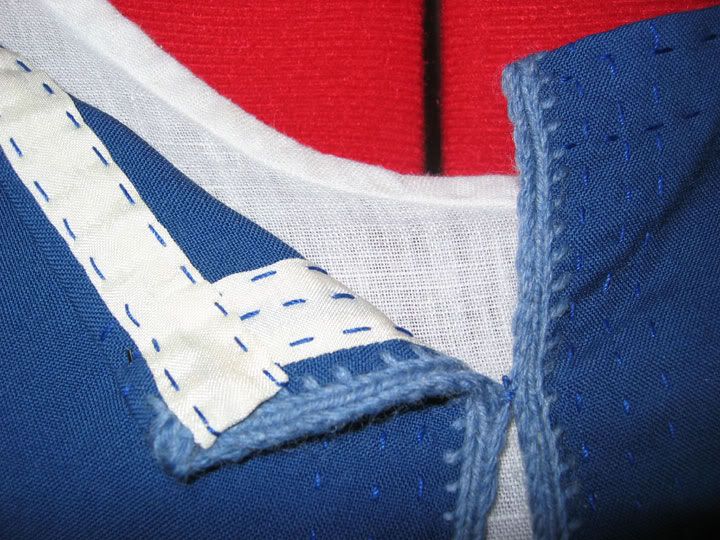 The dress is a simple design, made for everyday life. Belted with a smocked apron, below, it blouses nicely and is reminiscent of those seen in the early 14th century depiction.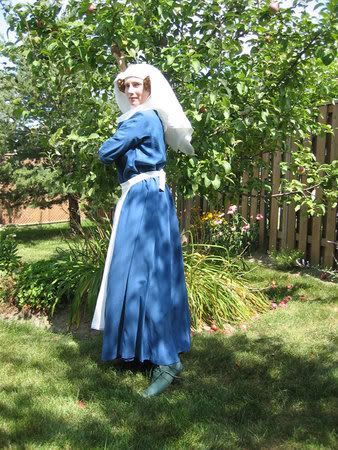 From the Manesse Codex, 1305-1340.
Here are some additional photos of the dress in action!